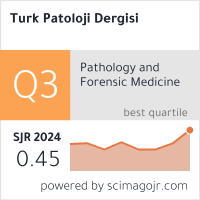 This journal is a member of, and subscribes to the principles of, the Committee on Publication Ethics (COPE)
2010, Volume 26, Number 2, Page(s) 170-172
DOI: 10.5146/tjpath.2010.01019
Massive Edema of the Ovary: Case Report
Bülent AKANSU1, Esin ATİK1, Süleyman ALTINTAŞ1, Arif GÜNGÖREN2, M. Şerefettin CANDA1
1Departments of Pathology, Mustafa Kemal University, Faculty of Medicine, HATAY, TURKEY
2Departments of Gynecology and Obstetrics, Mustafa Kemal University, Faculty of Medicine, HATAY, TURKEY
Keywords: Ovary, Edema
---
Massive ovarian edema is a rare condition characterized by marked enlargement of one or both ovaries as a result of accumulation of edema fluid in stroma. It is a benign lesion and is generally seen in young females between 6-33 years of age. Our aim is to remind that massive ovarian edema should be considered in the differential diagnosis especially in young patients to avoid aggressive treatment.
Our patient was a 17-year-old female who was admitted to our hospital with complaints of irregular menstruation and right groin pain for the last 3 months. There was no remarkable finding in the physical examination. 'Sex-cord stromal tumor (luteinized thecoma)' could not be excluded in the intraoperative frozen section. The diagnosis was reported as 'massive ovarian edema' with routine examination.
Pathological evaluation is required because of the difficulty of differentiating these lesions from malignant lesions with radiological methods in the pre-operative period. Although it is a rare lesion, clinicians and pathologists should consider it in the differential diagnosis to avoid aggressive treatment.
---