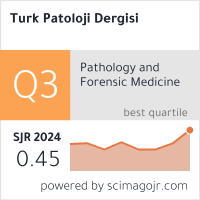 This journal is a member of, and subscribes to the principles of, the Committee on Publication Ethics (COPE)
2010, Volume 26, Number 2, Page(s) 173-176
DOI: 10.5146/tjpath.2010.01020
Intraosseous Schwannoma of the Radius
Pelin BAĞCI1, Sergülen DERVİŞOĞLU1, Murat HIZ2, Kaya KANBEROĞLU3
1Department of Pathology, İstanbul University, Faculty of Cerrahpaşa Medicine, İSTANBUL, TURKEY
2Department of Orthopedics and Traumatology, İstanbul University, Faculty of Cerrahpaşa Medicine, İSTANBUL, TURKEY
3Department of Radiology, İstanbul University, Faculty of Cerrahpaşa Medicine, İSTANBUL, TURKEY
Keywords: Schwannoma, Intraosseous, Radius
---
Intraosseous schwannoma is a rare benign neoplasm arising from Schwann cells of the nerve sheath and involving the substance of bone. Intraosseous schwannomas account for less than 0.2 % of primary bone tumors. The most common site of occurrence is the mandible, a characteristic traditionally attributed to the long intraosseous path of the inferior alveolar nerve.
Here we report a case of intraosseous schwannoma in the radius of a 19 year-old female which was misdiagnosed as a sarcoma.
Even it is a very rare lesion of bone one should be aware of the fact that when a small biopsy is taken, it can be misdiagnosed as sarcoma or fibrous dysplasia.
---