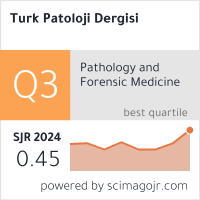 This journal is a member of, and subscribes to the principles of, the Committee on Publication Ethics (COPE)
2010, Volume 26, Number 3, Page(s) 238-242
DOI: 10.5146/tjpath.2010.01030
The Role of CD56, HBME-1, and p63 in Follicular Neoplasms of the Thyroid
Hülya ETEM1, Selver ÖZEKİNCİ2, Bülent MIZRAK2, Senem ŞENTÜRK3
1Department of Pathology, Kızıltepe State Hospital, MARDİN, TURKEY
2Department of Pathology, Dicle University, Faculty of Medicine, DİYARBAKIR, TURKEY
3Department of Radiology, Dicle University, Faculty of Medicine, DİYARBAKIR, TURKEY
Keywords: Thyroid cancer, Papillary thyroid carcinoma, Follicular Neoplasms
---
Objective:
Carcinomas originating from thyroid follicular cells are the commonest of all endocrine system malignancies. In this study we evaluated the importance of the expressions of CD 56, HBME-1 and p63 in the differential diagnosis of the follicular variant of papillary carcinoma from other follicular neoplasms.
Material and Method: We re-evaluated 80 cases of thyroid neoplasms, comprising 40 cases of follicular variant of papillary thyroid carcinoma and 40 cases of follicular neoplasm, diagnosed at Dicle University Medical School, Department of Pathology between 2005 and 2008. All neoplasms were stained with CD 56, HBME-1 and p 63 compared to each other. Statistical analysis was with Student's t test and the Yates corrected chi-square test.
Result: There was no statistically significant difference in the expression of CD 56 between follicular neoplasms and papillary carcinomas, but HBME-1 and p63 expressions were statistically significantly different between these neoplasms (p=0.005, p=0.0001).
Conclusion: The use of HBME-1 and p63 may be helpful in differentiating papillary carcinoma, particularly follicular variant, from follicular neoplasms.
---