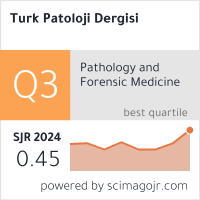 This journal is a member of, and subscribes to the principles of, the Committee on Publication Ethics (COPE)
2011, Volume 27, Number 2, Page(s) 127-133
DOI: 10.5146/tjpath.2011.01060
Expression of CD44 and MMP-2: Possible Association with Histopathological Features of Pleuro-Pulmonary Solitary Fibrous Tumors
Funda DEMİRAĞ1, Ebru ÇAKIR1, Sibel ALPAR2, İrfan TAŞTEPE3, Sadi KAYA3
1Department of Pathology, M.H. Atatürk Chest Diseases and Chest Surgery Training and Research Hospital, ANKARA, TURKEY
2Department of Chest Diseases, M.H. Atatürk Chest Diseases and Chest Surgery Training and Research Hospital, ANKARA, TURKEY
3Department of Chest Surgery, M.H. Atatürk Chest Diseases and Chest Surgery Training and Research Hospital, ANKARA, TURKEY
Keywords: Solitary fibrous tumors, Histopathology, CD44, MMP-2
---
Objective:
Recent studies have shown that tumor cell adhesion molecules CD44 and matrix metalloproteinases (MMP-2) are expressed strongly in many tumors and associated closely with invasion and metastasis of these tumors. Although solitary fibrous tumors (SFT) have a good prognosis, a minority behave malignantly. The aim of this study was to analyze the correlation between CD44 and MMP-2 expression with histopathological parameters in SFT.
Material and Method: Haemotaxylin-Eosin stained sections of 10 patients with SFT were reexamined for evaluation of histopathological parameters. Immunostaining of CD44 and MMP-2 was performed by using the streptavidin-biotin method with mouse monoclonal antibody.
Results: Our cases consisted of three male and seven female patients with a mean age of 54.5 years. Three patients had a history of asbest exposure. Complete resection was performed in 2 malignant (multiple masses) and 8 benign SFT cases. One intrapulmonary tumor was treated with pneumonectomy. 3 cases originated from the right and 7 from the left hemithorax. Tumor size ranged from 5 to 27cm. All cases expressed strong CD44. Only 2 malignant SFT and intrapulmonary SFT expressed focal MMP-2.
Conclusion: Although MMP-2 positivity was observed in 2 malignant cases, CD44 positivity was not associated with malignancy criteria in solitary fibrous tumors.
---