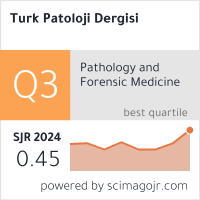 This journal is a member of, and subscribes to the principles of, the Committee on Publication Ethics (COPE)
2011, Volume 27, Number 3, Page(s) 261-261
DOI: 10.5146/tjpath.2011.01086
Hashimoto's Disease in a Bilateral Benign Cystic Ovarian Teratoma: A Case Report
Rupinderjeet KAUR, Jasbir SINGH, Anureet KAUR, Rimpi BANSAL, Satish SHARMA
Department of Pathology, Giansagar Medical College and Hospital, Banur, Dist Patiala, PUNJAB, INDIA
Keywords: Hashimoto thyroiditis, Teratoma, Mature, Dermoid, Ovary
---
A wide array of tissues derived from all the three germinal layers is seen in ovarian teratomas. Among these, thyroid tissue is present in 10% cases of all mature cystic teratomas.
We report this case of Hashimoto's thyroiditis in a clinically euthyroid patient who tested positive for antithyroid peroxidase antibodies in spite of normal thyroid hormone profile.
While the histological features of several disorders of thyroid tissue may be discovered, Hashimoto's thyroiditis is extremely rare finding in ovarian teratomas.
---