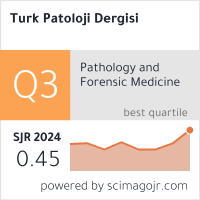 This journal is a member of, and subscribes to the principles of, the Committee on Publication Ethics (COPE)
2012, Volume 28, Number 1, Page(s) 024-030
DOI: 10.5146/tjpath.2012.01093
Childhood Fibroblastic and Myofibroblastic Tumors: A Multicenter Documentation and Review of the Literature
Ayper KAÇAR1, İrem PAKER2, Diclehan ORHAN3, Aylar POYRAZ4, Aylin OKÇU HEPER5, Nilüfer ARDA6, Esin BODUROĞLU6
1Department of Pathology, Ankara Children's Hematology and Oncology Research and Training Hospital, ANKARA, TURKEY
2Department of 2nd Pathology, Dışkapı Yıldırım Beyazıt Research and Training Hospital, ANKARA, TURKEY
3Department of Child Health and Diseases, Pediatric Pathology Unit, Hacettepe University, Faculty of Medicine, ANKARA, TURKEY
4Department of Pathology, Gazi University, Faculty of Medicine, ANKARA, TURKEY
5Ankara University, Faculty of Medicine, ANKARA, TURKEY
6Dr. Sami Ulus Child Diseases Research and Training Hospital, ANKARA, TURKEY
Keywords: Neoplasms, Fibrous tissue, Pediatric, Infant
---
Objective:
In this study, we aimed to give a documentation of 37 cases of childhood fibroblastic/myofibroblastic tumors retrieved from the archives of 6 reference centers in Ankara along with a comprehensive review on the subject.
Material and Method: A retrospective archive search was carried out for the period between 2006-2010 in 6 reference centers in Ankara covering patients with ages ranging between 0-18 years. All the tumors categorized under fibroblastic and myofibroblastic group according to World Health Organization criteria were collected.
Results: The study comprised 407 soft tissue tumors in total. Fibroblastic/myofibroblastic tumors constituted 9,1 % (37 cases) of these tumors. According to histopathology; 16 cases were categorized as fibromatosis, 8 cases as inflammatory myofibroblastic tumor, 6 cases as infantile fibrous hamartoma, 3 cases as nodular fasciitis and 2 cases as infantile myofibroblastic tumor/myofibromatosis and 1 case as cranial fasciitis. The only malignant case was an infantile fibrosarcoma.
Conclusion: Infantile fibrosarcoma was lower than reported series and a male predominance was noted. The low incidence of newly described entities as well suggests that these tumors may have been unrecognized.
---