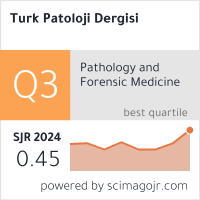 This journal is a member of, and subscribes to the principles of, the Committee on Publication Ethics (COPE)
2014, Volume 30, Number 3, Page(s) 189-194
DOI: 10.5146/tjpath.2014.01266
Perinatal Autopsy Evaluation of 2150 Autopsies in the Çukurova Region of Turkey
Arbil AÇIKALIN1, Emine KILIÇ BAĞIR1, Goncagül TORUN1, Berna TOTAN ATEŞ1, Şeyda ERDOĞAN1, Aysun UĞUZ1, Melek ERGİN1, Selim BÜYÜKKURT2, Fatma TUNCAY ÖZGÜNEN2, Nurdan TUNALI1, Derya GÜMÜRDÜLÜ1
1Departments of Pathology, Çukurova University, Faculty of Medicine, ADANA, TURKEY
2Departments of Obstetrics and Gynecology, Çukurova University, Faculty of Medicine, ADANA, TURKEY
Keywords: Autopsy, Congenital abnormalities, Prenatal diagnosis, Perinatal mortality, Syndrome
---
Objective:
We aimed to document the reasons of perinatal deaths in a large autopsy series performed in our institute, which is a reference center in the Çukurova region of Turkey.
Material and Method: The study included 2150 autopsies performed between January 2000 and December 2012at our institute. Diagnoses were categorized according to the detected pathologies; congenital malformations were detailed based on systems.
Results: A pathology was detected in 1619 of 2150 (73.3%) autopsies. Congenital malformations were the most common diagnosis with 68.2%. Neural tube defects and central nervous system malformations were the most frequent system malformation in 28.8% of cases, followed by the urogenital system (11.4%) and musculoskeletal system (8.3%), respectively. Malformation syndromes including multisystem anomalies were defined in 109 cases (9.3%).
Conclusion: Congenital malformations are the most common reason for perinatal deaths, with autopsy having an additive role to prenatal and genetic evaluations and providing foresight for planning a subsequent pregnancy.
---