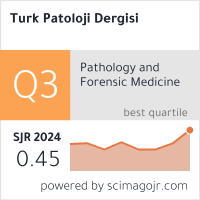 This journal is a member of, and subscribes to the principles of, the Committee on Publication Ethics (COPE)
2017, Volume 33, Number 3, Page(s) 192-197
DOI: 10.5146/tjpath.2017.01395
Programmed Death Ligand 1 (PD-L1) Expression in Malignant Mesenchymal Tumors
Kemal KÖSEMEHMETOĞLU1, Ece ÖZOĞUL1, Berrin BABAOĞLU1, Gaye GÜLER TEZEL1,2, Gökhan GEDİKOĞLU1
1Department of Pathology, Research and Application Center, Hacettepe University, Faculty of Medicine, ANKARA, TURKEY
2Department of Molecular Pathology, Research and Application Center, Hacettepe University, Faculty of Medicine, ANKARA, TURKEY
Keywords: Sarcoma, Immunotherapy, Immunohistochemistry, Quantitative PCR
---
Objective:
Programmed death ligand 1 (PD-L1) found on tumor cells has recently been reported to have a key role in the development and dissemination of many tumors, such as lung and breast carcinomas. In this study, we retrospectively analyzed PD-L1 expression among different types of sarcomas.
Material and Method: Tissue microarrays of 3-4 mm diameter were composed from paraffin blocks of 222 various sarcomas. Slides prepared from microarrays were stained for PD-L1 antibody (Cell Signaling, E1L3N®) using Leica Bond Autostainer. Any membranous staining over 5% of the cells was regarded as positive. Quantitative real-time PCR with TaqMan gene expression assays for PDL1 was performed using whole sections from FFPE tissue of PD-L1 positive cases, by normalizing absolute values to β-actin. Relative expression level of mRNA of PDL1 was calculated and scored using Log102(threshold cycle of b-actin - threshold cycle of PDL1).
Results: Immunohistochemically, PD-L1 expression was present in 34 of 222 (15%) sarcomas. 5/13 (39%) undifferentiated pleomorphic sarcomas, 6/18 (33%) malignant peripheral nerve sheath tumors, 5/16 (31%) dedifferentiated liposarcomas, 4/19 (21%) rhabdomyosarcomas, 2/16 (13%) epithelioid sarcomas, 2/15 (13%) leiomyosarcomas, 3/26 (12%) synovial sarcomas, 1/18 (6%) myxoid liposarcoma, 1/2 (50%) extraskeletal myxoid chondrosarcoma, 1/3 (33%) alveolar soft part sarcoma, 1/3 (33%) parachordoma/myoepithelioma, 1/5 (20%) pleomorphic liposarcoma, 1/7 (14%) angiosarcoma, 1/8 (13%) Ewing sarcoma showed PD-L1 expression. Cases of solitary fibrous tumor/hemangiopericytoma (18), desmoplastic round cell tumor (14), Ewing-like sarcoma (6), epithelioid hemangioendothelioma (5), clear cell sarcoma (4), myxofibrosarcoma (4), low grade fibromyxoid sarcoma (2) were all negative. Tumor-infiltrating hematopoietic cells were positive for PD-L1 in 32 cases (15%) with only 2 cases overlapping with PD-L1 staining in tumoral cells. Sixteen of 34 (47%) immunohistochemically PD-L1 positive cases showed significant but low-level PD-L1 mRNA overexpression.
Conclusion: We have shown PD-L1 expression in a subset of sarcomas, both at the protein and mRNA level. High-grade pleomorphic sarcomas tend to show more frequent PD-L1 expression. Clinical trials are necessary to further assess the effect of anti PD-L1 drugs on sarcomas showing PD-L1 expression.
---