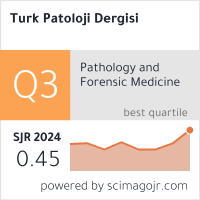 This journal is a member of, and subscribes to the principles of, the Committee on Publication Ethics (COPE)
2018, Volume 34, Number 3, Page(s) 225-233
DOI: 10.5146/tjpath.2018.01429
Recurrence in Uterine Tumors with Ovarian Sex-Cord Tumor Resemblance: A Case Report and Systematic Review
Günsu KIMYON CÖMERT1, Çiğdem KILIÇ1, Deniz ÇAVUŞOĞLU2, Osman TÜRKMEN1, Alper KARALOK1, Taner TURAN1, Derman BAŞARAN1, Nurettin BORAN1
1Department of Gynecologic Oncology, Etlik Zubeyde Hanim Women's Health Training and Research Hospital, Faculty of Medicine, University of Health Sciences , ANKARA, TURKEY 2Department of Pathology, Etlik Zubeyde Hanim Women's Health Training and Research Hospital, Faculty of Medicine, University of Health Sciences , ANKARA, TURKEY
Keywords: Uterine neoplasms, Recurrence, UTROSCT, Surgery, Prognosis
---
Objective:
The aim of this study was to evaluate the prognostic factors of recurrence in uterine tumors resembling ovarian sex-cord tumors (UTROSCT) and to determine clinical-pathological characteristics, treatment options and outcome.
Material and Method: An electronic literature search was conducted from 1976 to 2018. After the comprehensive evaluation and conjunction with our case, the study included 79 cases.
Results: The median age at initial diagnosis was 49 years (range; 16-86 years). The age was under 40 years in 21 (26.6%) patients. Whereas 68 patients underwent at least hysterectomy, 9 patients had organ sparing surgery. There was necrosis in 4 (5.1%) patients, atypia in 16 (20.3%) patients, and infiltrative tumor border in 34 (43%) patients. At least one mitosis per 10 high power fields was determined in 36 (45.5%) patients. The tumor involved at least part of the myometrium in 54 (68.3%) patients. Median follow-up time was 30 months (range; 3-296 months). Recurrence was determined in 5 (6.3%) patients. The disease free survival (DFS) was significantly related only to surgery type. None of the pathologic features were associated with DFS. The 5-year DFS was 86% and 96% in patients who underwent organ sparing surgery or not, respectively (p=0.038).
Conclusion: The accurate pathologic diagnosis of UTROSCT has great value in shaping surgical management and management during the follow-up period. Organ sparing surgery was related to poor DFS. Although recurrence is rare, it should be kept in mind for patients with UTROSCT.
---