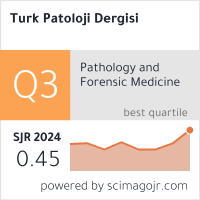 This journal is a member of, and subscribes to the principles of, the Committee on Publication Ethics (COPE)
2020, Volume 36, Number 3, Page(s) 188-194
DOI: 10.5146/tjpath.2020.01483
The Contribution of Additional Sampling in Cholecystectomy Materials: A Multicenter Prospective Study
Samir ABDULLAZADE1, Fahire Göknur AKARCA2, Güldal ESENDAĞLI2, Nesrin TURHAN3, Esra ERDEN4, Berna SAVAŞ4, Fatma MARKOÇ5, Deniz TUNÇEL6, Banu Özgüven YILMAZ6, Burcu SAKA7, Sevinç Hallaç KESER8, Selma Şengiz ERHAN9, Zühal GÜCİN10, Özgül SAĞOL11, Anıl Aysal AĞALAR11, Sevinç ÇELİK12 , Hatice ÖZER13 , İpek ERBARUT SEVEN14 , Çiğdem Ataizi ÇELİKEL14, Özgür EKİNCİ2, Hatice Reyhan EĞİLMEZ13, Serdar BALCI15, Gülen AKYOL2
1Department of Pathology, İzmir Tepecik Education and Research Hospital, İZMİR, TURKEY
2Department of Medical Pathology, Gazi University, Faculty of Medicine, ANKARA, TURKEY
3Department of Pathology, Turkey Yüksek İhtisas Education and Research Hospital, ANKARA, TURKEY
4Department of Medical Pathology, Ankara University, Faculty of Medicine, ANKARA, TURKEY
5Department of Pathology, Dr. Abdurrahman Yurtaslan Ankara Oncology Education and Research Hospital, ANKARA, TURKEY
6Şişli Etfal Education and Research Hospital, İSTANBUL, TURKEY
7Department of Medical Pathology, Medipol University, Faculty of Medicine, İSTANBUL, TURKEY
8Department of Pathology, Lütfi Kırdar Education and Research Hospital, İSTANBUL, TURKEY
9Okmeydanı Education and Research Hospital, İSTANBUL, TURKEY
10>Department of Medical Pathology, Bezmialem Vakıf University, Faculty of Medicine, İSTANBUL, TURKEY
11Dokuz Eylül University, Faculty of Medicine, İZMİR, TURKEY
12Bozok University, Faculty of Medicine, YOZGAT, TURKEY
13Cumhuriyet University, Faculty of Medicine, SİVAS, TURKEY
14Marmara University, Faculty of Medicine, İSTANBUL, TURKEY
15Pathologist, ANKARA, TURKEY
Keywords: Gallbladder, Cholecystectomy, Dysplasia, Cancer, Macroscopy
---
Objective:
Cholecystectomy materials are frequently encountered in routine practice. The aim of this study was to determine the true frequency of gallbladder lesions, the diagnostic consistency, and standardization of reports after macroscopic sampling and microscopic evaluation based on previously defined criteria.
Material and Method:14 institutions participated in the study within the Hepato-Pancreato-Biliary Pathology Study Group. Routinely examined cholecystectomies within the last year were included in the study in these institutions. Additional sampling was performed according to the indications and criteria. The number of blocks and samples taken in the first macroscopic examination and the number of blocks and samples taken in the additional sampling were determined and the rate of diagnostic contribution of the additional examination was determined.
Results: A total of 5,244 cholecystectomy materials from 14 institutions were included in the study. Additional sampling was found to be necessary in 576 cases (10.98%) from all institutions. In the first macroscopic sampling, the mean of the numbers of samples was approximately 4 and the number of blocks was 2. The mean of the numbers of additional samples and blocks was approximately 8 and 4, respectively. The diagnosis was changed in 144 of the 576 new sampled cases while the remaining 432 stayed unaltered.
Conclusion: In this study, it was observed that new sampling after the first microscopic examination of cholecystectomy materials contributed to the diagnosis. It was also shown that the necessity of having standard criteria for macroscopic and microscopic examination plays an important role in making the correct diagnosis.
---