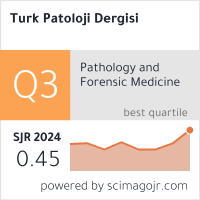 This journal is a member of, and subscribes to the principles of, the Committee on Publication Ethics (COPE)
2022, Volume 38, Number 2, Page(s) 142-147
DOI: 10.5146/tjpath.2021.01540
HHV-8 and EBV Positive Lymphoproliferative Disease: A Challenging Case
Göksenil BÜLBÜL1, Gülen GÜL2, Mehmet Ali ÖZCAN3, Sermin ÖZKAL1
1Department of Pathology, Dokuz Eylül University, School of Medicine, IZMIR, TURKEY
2University of Health Sciences, Tepecik Training and Research Hospital, IZMIR, TURKEY
3Department of Hematology, Dokuz Eylul University, School of Medicine, IZMIR, TURKEY
Keywords: Castleman disease, Germinotropic lymphoproliferative disorder, EBV, HHV-8
---
Human herpes virus-8 (HHV-8) is linked to four lymphoproliferative diseases: primary effusion lymphoma, HHV-8 positive multicentric Castleman disease (MCD), HHV-8 positive diffuse large B cell lymphoma and HHV-8 positive germinotropic lymphoproliferative disorder (GLPD). The diagnosis of HHV-8 associated lymphoproliferative diseases is quite challenging because each entity is rare and has a wide morphological spectrum. Our aim is to emphasize the overlapping histopathological features of MCD and GLPD as well as to underline the importance of clinicopathological correlation in case these two entities cannot be distinguished by pathological examination.
We present here a case of an 82-year-old male patient who was examined for weight loss and multiple lymphadenopathy. Histopathological examination of the axillary lymph node revealed lymphoid follicle structures of varying shapes and sizes, including some atrophic germinal centers. Plasmablast-like cells were notable in some of these areas. HHV-8 and Epstein Barr Virus (EBV) positivity were noted in some of these cells and in a small number of cells in the mantle zone. Based on these findings; a diagnosis of "HHV-8 and EBV positive lymphoproliferative disease" was established.
Since HHV-8 positive MCD and GLPD have similar histopathological features, it may not be possible to distinguish these two entities by histopathological examination only. At this point, the importance of clinicopathological correlation becomes more evident, especially in the determination of the treatment protocol to be applied to the patient.
---