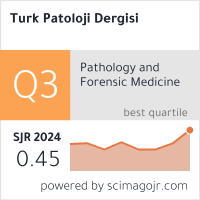 This journal is a member of, and subscribes to the principles of, the Committee on Publication Ethics (COPE)
2022, Volume 38, Number 1, Page(s) 040-045
DOI: 10.5146/tjpath.2021.01554
Granulomatous Mastitis: A Clinical and Diagnostic Dilemma
Emel Ebru PALA1, Sumeyye EKMEKCI1, Melis KILIC1, Ayberk DURSUN2, Gul COLAKOGLU3, Cem KARAALI2, Mumin EMIROGLU1, Mustafa EMIROGLU2
1Department of Pathology, Tepecik Education and Research Hospital, University of Health Sciences, IZMIR, TURKEY
2Department of General Surgery, Tepecik Education and Research Hospital, University of Health Sciences, IZMIR, TURKEY
3Department of Radiology, Tepecik Education and Research Hospital, University of Health Sciences, IZMIR, TURKEY
Keywords: Breast, Granulomatous mastitis, Idiopathic
---
Objective:
Granulomatous mastitis (GM) is a challenging inflammatory disorder of the breast. In this study we aimed to present the detailed clinical and morphological features of GM cases, diagnostic clues for specific and idiopathic etiologies, the difficulties in evaluating trucut biopsies, and the results of different therapeutic approaches.
Material and Method: We retrospectively analysed the clinical, radiological and morphological features of 114 GM cases diagnosed with fine needle aspiration, and trucut, incisional, and excisional biopsy.
Results: The mean age was 35.8. Only eight cases were older than 45 years. Bilateral involvement was observed in 4 (3.5%) cases. The most common clinical symptoms were breast mass/abscesses, tenderness, and skin changes. Microbiological culture was positive in 4 cases for gram-positive bacteria. Only 3 cases showed a positive tuberculin/PCR test for tuberculosis. The major USG finding was a hypoechoic well-defined or ill-defined mass/abscess; MRI finding was heterogeneous non-mass contrast enhancement. Cases diagnosed with cytology (35 cases) did not have breast malignancy either in their history or clinical follow up period. Fine needle aspiration cytology materials revealed epitheloid granulomas mixed with neutrophils, lymphocytes accompanied by giant cells, and suppurative necrosis. Histopathological reevaluation of 65 trucut/incisional/ excisional biopsies revealed granuloma formation in 65 (100%), Langhans type giant cells in 59 (90.7%), microabscess formation in 41 (63%), caseous necrosis in 1 (1.5%), neutrophilic cysts in 30 (46.1%), eosinophilic infiltration in 48 (73.8%), interlobular inflammation in 14 (21.5%), fat necrosis in 5 (7.6%), ductal ectasia in 6 (9.2%), and lactational changes in 4 (6.1%) cases. Granulomas were lobulocentric in 58 cases, foreign body type/fat necrosis-related in 6 case, and periductular in 1 case. Cystic neutrophilic granulomatous mastitis was observed in one case. We also evaluated the histochemical stains of these 65 biopsies. Only one sample was positive for acido-resistant bacilli (ARB) by the EZN method and one sample was positive for gram-positive bacilli by gram stain.
Conclusion: Small, superficial trucut biopsies may cause difficulties in determining the etiology and differential diagnosis of granulomatous mastitis. For optimal management and timing the appropriate therapy, the ideal biopsy procedure, special stains, and a multidisciplinary team consisting of the surgeon, pathologist, and radiologist are the most important issues.
---