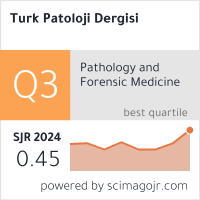 This journal is a member of, and subscribes to the principles of, the Committee on Publication Ethics (COPE)
2023, Volume 39, Number 1, Page(s) 075-082
DOI: 10.5146/tjpath.2022.01596
High Tumor Infiltrating Lymphocytes Are Associated with Overall Survival and Good Prognostic Parameters in Endometrial Endometrioid Carcinoma Patients
Cigdem OZTURK1, Gokce ASKAN1, Seda DUMAN OZTURK1, Oguzhan OKCU2, Bayram SEN3, Recep BEDIR2
1Recep Tayyip Erdogan University Training and Research Hospital, Department of Pathology, RIZE, TURKIYE
2Recep Tayyip Erdogan University, Faculty of Medicine, Department of Pathology, RIZE, TURKIYE
3Recep Tayyip Erdogan University Training and Research Hospital, Department of Biochemistry, RIZE, TURKIYE
Keywords: Tumor-infiltrating lymphocytes, Endometrial carcinomas, Prognosis, Practical parameter
---
Objective:
The mortality incidence of endometrial carcinomas (ECs) has increased in recent years. Therefore, recent studies have focused on the cellular and microenvironmental properties of ECs. Tumor-infiltrating lymphocytes (TILs), a component of the microenvironment, have been found to be associated with the prognosis in many tumors. Although TILs were mostly evaluated by immunohistochemical studies in ECs, in our study, the evaluation was done with a light microscope as a practical approach, and we aimed to determine the prognostic importance of TILs in endometrioid ECs.
Material and Method: 104 patients were included in the study. TILs in the stromal area (sTILs) were evaluated on hematoxylin and eosin (HE) stained-sections at X200 objective. The presence of TILs was evaluated as follows; 0-10% as low, 20-40% as moderate, and 50-90% as intense. Then TILs were grouped as low and high.
Results: Tumors with high TILs were more prone to have FIGO (International Federation of Gynecology and Obstetrics) grade 1 tumors, low nuclear grade, early pathological stage, smaller size, no lymphovascular invasion, myometrial invasion below 50%, and no cervical involvement. In the presence of high TILs, the overall survival showed significant increase but no significant correlation was found with disease-free survival.
Conclusion: Interest in the molecular properties of ECs has increased in recent years. TIL, which can be easily evaluated in HE sections, is an important parameter in patient selection for molecular tests and determining the prognosis of patients.
---