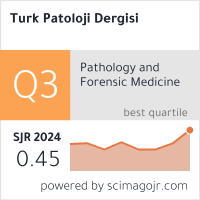 This journal is a member of, and subscribes to the principles of, the Committee on Publication Ethics (COPE)
2001, Volume 17, Number 1-2, Page(s) 043-045
TWO FETAL AUTOPSIES WİTH OSTEOCHONDRODISPLASIA:
Bahar KILIÇARSLAN, H. Elif PEŞTERELİ, Sevim ÖZTEKİN, Saim YILMAZ, Şeyda KARAVELİ
Akdeniz Üniversitesi Tıp Fakültesi Patoloji Anabilim Dalı, Antalya, Akdeniz Üniversitesi Tıp Fakültesi Radyoloji Anabilim Dalı, Antalya
---
Skeletal system anomalies are rarely seen and can be prenatally diagnosed. Two fetal autopsies of 30 weeks old male with thanatophoric dysplasia and 19 weeks old female with achondroplasia diagnosed during prenatal period have been presented. Macrocephaly, short narrow chest, short and broad extremities were found in the thanatophoric dysplasia. Radiologic findings confirmed the diagnosis. Macroscopic findings of achondroplasia were frontal bossing and a low nasal bridge, short limbs, narrow chest. Radiologic findings support the diagnosis. Histopathologic examination of the chondro-osseous junction of knee confirmed the diagnosis.
---