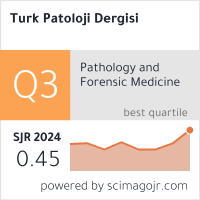 This journal is a member of, and subscribes to the principles of, the Committee on Publication Ethics (COPE)
2001, Volume 17, Number 1-2, Page(s) 057-062
CONGENITAL MALFORMATIONS: DESCRIPTION, CLASSIFICATION, TERMINOLOGY AND EXAMINATION OF FETUS WITH CONGENITAL ANOMALIES.
Figen AKSOY
İstanbul Üniversitesi Cerrahpaşa Tıp Fakültesi Patoloji Anabilim Dalı
---
Congenital anomalies, congenital malformations or birth defects are developmental diseases that have importance in perinatal mortality and morbidity. It's necessary to learn terminology, classification and features of fetuses with congenital anomalies. In this study, approaching neonatal period autopsies by classification and terminology of congenital anomalies is analysed and literature findings and our experience is reviewed.
---