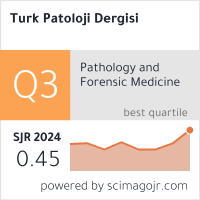 This journal is a member of, and subscribes to the principles of, the Committee on Publication Ethics (COPE)
2000, Volume 16, Number 1-2, Page(s) 017-021
HEPATIC IRON AND FIBROSIS SCORE AS PREDICTORS OF RESPONSE TO INTERFERON IN CHRONIC HEPATITIS C.
Çiğdem Ataizi ÇELİKEL, Osman ÖZDOĞAN, Funda EREN, Erol AVŞAR
Marmara Üniversitesi Tıp Fakültesi Patoloji Anabilim Dalı, Marmara Üniversitesi Tıp Fakültesi Gastroenteroloji Bilim Dalı
---
The aim of this study was to assess the following variables as potential predictive factors of complete response to interferon- in chronic hepatitis C patients: age, sex, serum aminotransferase level, necroinflammatory score, fibrosis score, steatosis and hepatic iron distribution. The influence of all these variables about complete response was studied in 40 patients. Each patient was treated for 6 months with interferon-, and then followed up for at least 1 year. According to the improvement status of serum aminotransferase levels during this period, the patients were classified into complete responders, non responders and partial responders. Pretreatment biopsies from all patients were analyzed with no prior knowledge of the efficacy of the treatment. A complete response was predicted only by a low hepatic iron score and by a low fibrosis score. These data indicate that liver biopsy provides useful information for selection of patients with hepatitis C for inreferon- therapy.
---