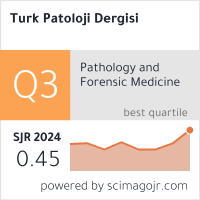 This journal is a member of, and subscribes to the principles of, the Committee on Publication Ethics (COPE)
2004, Volume 20, Number 3-4, Page(s) 066-068

SCLEROSING STROMAL TUMOR OF THE OVARY: MORPHOLOGIC AND IMMUNOHISTOCHEMICAL ANALYSIS OF SIX CASES

Gülsen KURT, Rıdvan İLHAN, Ekrem YAVUZ, Sıtkı TUZLALI, Altan İPLİKÇİ

Istanbul Üniversitesi Istanbul Tıp Fakültesi Patoloji ABD, İstanbul

Sclerosing stromal tumor is a rare benign neoplasm of the ovary. In this study six cases of sclerosing stromal tumor of the ovary are presented. All the tumors occured in young patients. The data of the study in which Calretinin, Inhibin, Actin, Oestrogen, Progesterone Receptor and Ki-67 antibodies have been used, supported the idea that these tumors originate from the ovarian stroma and had a benign characteristic.