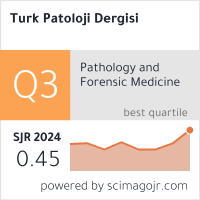 This journal is a member of, and subscribes to the principles of, the Committee on Publication Ethics (COPE)
2002, Volume 18, Number 3-4, Page(s) 064-067

POST-INFANTILE GIANT CELL HEPATITIS

Mine G. GÜLLÜOĞLU, Uğur ÇEVİKBAŞ, Kadir DEMİR, Atilla ÖKTEN

İstanbul Üniversitesi İstanbul Tıp Fakültesi Patoloji Anabilim Dalı, İstanbul Üniversitesi İstanbul Tıp Fakültesi İç Hastalıkları Anabilim Dalı

Giant cell hepatitis is a pathology which has been described in newborn. When it is seen in adult patients, the term "post-infantile giant cell hepatitis" is used to describe it. Even though autoimmunity, some viruses and some drugs have been reported as etiologic factors, in the literature, there are cases, of which the etiologic factors could not be identified. In this article, we report three adult patients we diagnosed as giant cell hepatitis in our department. In the liver biopsy of all three cases, the giant cell transformation was observed either widespread or predominantly in zone 1. Portal and lobular inflammatory cell infiltrates composed predominantly of mononuclear cells, hepatocye necrosis and collapse were observed. As the clinical and laboratory investigations for etiology were negative, these patients were considered as cryptogenic hepatitis. As the clinical features and the etiologic factors are variable, and it is not possible to gain any information about etiology of this condition in the histopathological examination, the histological findings should be evaluated together with the patients' clinical and serological findings to achieve the diagnosis. The post-infantile giant cell hepatitis is a histopathological condition rather than a specific disease.