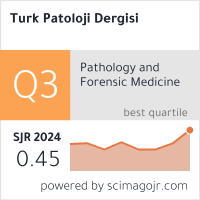 This journal is a member of, and subscribes to the principles of, the Committee on Publication Ethics (COPE)
2001, Volume 17, Number 1-2, Page(s) 038-042

IMMUNOHISTOCHEMICAL INVESTIGATION OF HGM AND MUC2 MUCIN EXPRESSIONS IN COLORECTAL ADENOMAS AND THE ROLE OF COLORECTAL CARCINOGENESIS (54 CASES)

Banu LEBE, Ali KÜPELİOĞLU

Dokuz Eylül Üniversitesi Tıp Fakültesi Patoloji Anabilim Dalı

In this study, the mucin changes in 54 colorectal adenomas in different atypia grades were evaluated semiquantitatively by immunohistochemical method with MUC2 and HGM antibodies, and, the relation of these changes with atypia grades were investigated. Statistical relation of epithelial atypia grade with size, histopathologic type were evaluated. Human gastric mucin was expressed significantly more frequently in colorectal adenomas with severe atypia than in those with mild atypia. MUC2 was diffusely expressed in colorectal adenomas with mild atypia. However, MUC2 was negative in adenomas with severe atypia. There was significant correlation with atypia grade and HGM and MUC2 expressions. To investigate the relation between the mucin changes such as MUC2 and HGM mucin gene protein expressions and epithelial atypia grades in colorectal adenomas may bring new aspects on adenoma-carcinoma sequence.