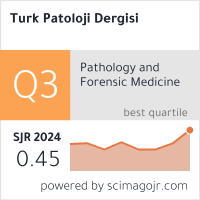 This journal is a member of, and subscribes to the principles of, the Committee on Publication Ethics (COPE)
2000, Volume 16, Number 1-2, Page(s) 005-009

EXAMINATION OF THE CHROMOSOMAL ABERRATIONS AND GENITAL ORGAN HISTOPATHOLOGY IN MICE AFFECTED BY DIETHYLSTILBESTROL

İsmihan GÖZE, Fahrettin GÖZE, Ahmet ÇOLAK

Cumhuriyet Üniversitesi Sağlık Hizmetleri Meslek Yüksek Okulu, Cumhuriyet Üniversitesi Tıp Fakültesi Patoloji Anabilim Dalı, Cumhuriyet Üniversitesi Tıp Fakültesi Tıbbi Biyoloji Anabilim Dalı

In the present study, histopathology of the genital organs and the chromosomes in the bone marrow of the mice that were subjected to the doses of 6µg/day/ mouse of DES for 1, 2 and 3 months periods were examined. A significant increase in the number of chromosomes and structural anomalies have been observed statistically in mice subjected to DES directly (p<0,05). The findings showed histologically, adenosquamous metaplasia in addition to inflammation, endometrial hyperplasia ranged from mild to severe and adhesions in the endometrial cavity in all the groups; severe hyperplasia of goblet cells was found in the group which was exposed to DES for 3 months. In addition, in the groups directly affected by the drug, for 1 and 2 month period the increase in the number of the micronuclei and the anaphasebridge attracted attention.