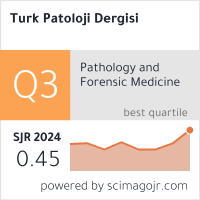 This journal is a member of, and subscribes to the principles of, the Committee on Publication Ethics (COPE)
2000, Volume 16, Number 1-2, Page(s) 031-033

AGGRESSIVE ANGIOMYXOMA: CASE REPORT

Muhan ERKUŞ, A. Rıza ODABAŞI, Emel DİKİCİOĞLU, Ergün ONUR

Adnan Menderes Üniversitesi Tıp Fakültesi Patoloji Anabilim Dalı, Marmara Üniversitesi Tıp Fakültesi Kadın Hastalıkları ve Doğum Anabilim Dalı

Aggressive angiomyxoma is a rare, locally infiltrative but not metastasizing tumor of pelvic soft parts and is seen mostly in child-bearing aged women. Our case was 35-year-old female who was operated for a tumor clinically misdiagnosed as Bartholin cyst. Histopathological examination of the surgical specimen revealed, haphazardly scattered spindle-shaped mesenchymal cells and vessels of medium size having dilated lumens within a loose hyposellular myxoid stroma. In order to assess the diagnosis and make the differential diagnosis between angiomyofibroblastoma, fibroephitelial polyp, myxoid epitheliod leiomyoma, myxoid malignant fibrous hystictyoma; vimentin, sitokeratin, FVII-RAg, smooth muscle spesific actin (SMA), desmin, -1 antichymotrypsin (Dako-AS, Denmark) immune markers were studied using avidin-biotin-peroxidase complex (ABC). Immunohistochemically, the stromal cells were reactive consistently for vimentin but not for other markers. Immunreactivity for SMA found in vessel walls and spindle cells with myoid apperance arround the vessels were also focally positive. No recurrence was observed by gynecological follow-up in the fourteen months period.