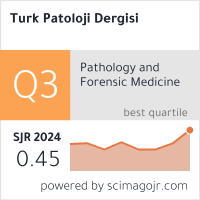 This journal is a member of, and subscribes to the principles of, the Committee on Publication Ethics (COPE)
2003, Volume 19, Number 1-2, Page(s) 026-029

SCABIOSIS AND MOLLUSCUM CONTAGIOSUM: MIMICS OF LYMPHOMATOID PAPULOSIS

Nimet AKBAŞ, Nesimi BÜYÜKBABANİ, Can BAYKAL, Yeşim KARAGENÇ

İ. Ü. İstanbul Tıp Fakültesi Patoloji Anabilim Dalı, İ. Ü. İstanbul Tıp Fakültesi Dermatoloji Anabilim Dalı, İstanbul

Polymorphous heavy lymphoid infiltration on a skin biopsy is a frequent diagnostic challenge. Immunphenotyping is a frequently used auxilliary method to achieve the proper diagnosis. CD30 positive pleomorphic cells may be present among the lymphoid population. The fact that CD30 expression is not specific to lymphomatoid papülosis and other CD30 positive lymphoproliferative diseases and that viral and parasitic diseases can be the cause should be kept in mind. Here we report two cases of scabiosis and mollucum contagiosum which mimicked lymphomatoid papulosis both clinically and histopathologically and we stressed the need to carefully interpret the results of immunophenotyping.