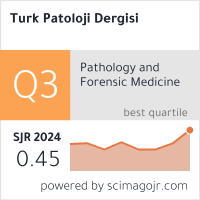 This journal is a member of, and subscribes to the principles of, the Committee on Publication Ethics (COPE)
2004, Volume 20, Number 1-2, Page(s) 026-028

TESTICULAR TUBULAR SEMINOMA: REPORT OF TWO CASES

Yasemin İREN ÖZLÜK, Işın KILIÇASLAN, Nimet AKBAŞ, Veli UYSAL

İstanbul Üniversitesi, İstanbul Tıp Fakültesi, Patoloji Anabilim Dalı, İstanbul

Classical seminoma is the most frequent malignant germ-cell tumor of the testis. Generally, diagnosis is quite easy because of its characteristic cytomorphology and typical architectural pattern. Sometimes when the tumor does not manifest its classical features, diagnostic difficulties may arise. 'Tubular seminoma', which is a rare variant, is discussed here with its histomorphological and immunohistochemical characteristics in two cases.