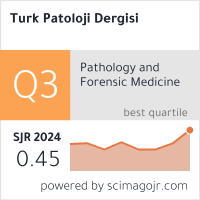 This journal is a member of, and subscribes to the principles of, the Committee on Publication Ethics (COPE)
2008, Volume 24, Number 1, Page(s) 006-013
Evaluation of the relationship of Epstein-Barr virus by Eber in-situ hybridization in cases of Enteropathy-type T-cell lymphoma
Başak DOĞANAVŞARGİL1, Serap KARAARSLAN1, Banu SARSIK1, Fatih TEKİN2, Meltem SEZİŞ3, SALİHA SOYDAN1, Mine HEKİMGİL1
1Ege Üniversitesi Tıp Fakültesi Patoloji Anabilim Dalı, İZMİR
2Ege Üniversitesi Tıp Fakültesi Gastroenteroloji Bilim Dalı, İZMİR
3Ege Üniversitesi Tıp Fakültesi Nefroloji Bilim Dalı, İZMİR
Keywords: Enteropathy-type T-cell lymphoma, gluten sensitive enteropathy, intra-epithelial lymphocytes, small intestine
---
Enteropathy-type T-cell lymphoma (ETTCL), is a type of "mature extranodal T- and NK-cell lymphoma", derived from intraepithelial T-lymphocytes, representing <%1 of all non-Hodgkin lymphomas. It is pathogenetically related to gluten hypersensitivity (Coeliac disease), however some cases, reported from South and Central America have been associated with Epstein-Barr virus (EBV).
We searched the relationship of EBV and ETTCL in five cases by chromogenic in situ hybridization method using early RNA probe of EBV (EBER). The cases were retrieved from a series of 94 patients diagnosed as T- and NKcell lymphoma, excluding the leukemic and cutaneous subtypes between 1997-2007 in our department. They accounted for 5.3% of all cases. Three of the cases were male, two were female, with a mean age of 47.2±13.6 years (range: 27-63). The most common presentation symptoms were diarrhoea, abdominal pain and weight loss. All tumors were located in small bowel and ulcerated. Neoplastic cells were atypical and large in two cases, small to mediumsized in the rest. They expressed CD3+, CD4-, CD8± immunophenotype and showed cytotoxic granules. All cases had enteropathy related morphology. Modified Marsh classification was Type IIIA in one case, Type IIIB in three cases and Type IV in the remaining case. EBER in situ hybridization was positive in minority of cells (<%5) of one case having a history of renal transplantation and were thought to represent isolated reactive lymphoid cells and immunoblasts.
In our study, no reliable evidence was found relating ETTCL to EBV. The higher proportion of ETTCL cases within the T- and NK-cell lymphoma group in our series, compared especially with Far-East series, was attributed to the higher prevalence of Coeliac disease in our country. Further multicenter studies combining immunohistochemistry and molecular methods are needed to achive reliable epidemiological data.
---