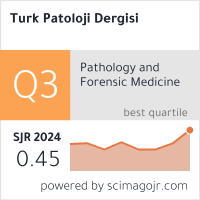 This journal is a member of, and subscribes to the principles of, the Committee on Publication Ethics (COPE)
2001, Volume 17, Number 3-4, Page(s) 085-086
EOSINOPHILIC ULCER OF THE ORAL MUCOSA : RIGA-FEDE DISEASE.
Muharrem BİTİREN, Mehmet S. GÜREL, H. İlyas ÖZARDALI
Harran Üniversitesi Tıp Fakültesi Patoloji AD, Şanlıurfa, Harran Üniversitesi Tıp Fakültesi Dermatoloji AD, Şanlıurfa
---
Eosinophilic ulcer of the oral mucosa is an uncommon reactive lesion. It develops rapidly and usually heals spontaneously within several weeks. Mucosal trauma and local immune reaction are possible pathogenetic mechanisms. Microscopically, there is dense inflammatory cell infiltration of numerous eosinophils with lymphocytes and plasmocytes in the submucosa. Since it often mimics many oral malignancies and chronic disorders, the differential diagnosis is important. In this study, we report a case of eosinophilic ulcer of the oral mucosa with sublingual localisation in an eleven months old infant, and discuss its clinical and histopathological characteristics in the light of the literature.
---