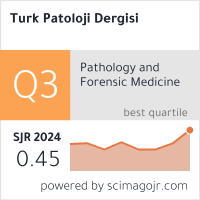 This journal is a member of, and subscribes to the principles of, the Committee on Publication Ethics (COPE)
2003, Volume 19, Number 1-2, Page(s) 042-044

NON-SPORADIC COMPOSITE ADRENAL PHEOCHROMOCYTOMA WITH NEUROFIBROMATOSIS (PHEOCHROMOCYTOMA-GANGLİONEUROMA) (A CASE REPORT)

Zuhal GÜCİN, Melih Özgün GEÇER, Bilgin AKSOY

SSK İstanbul Eğitim Hastanesi Patoloji Bölümü, İstanbul

Composite pheochromocytomas are tumors mostly located in adrenal gland and have a secondary component such as ganglioneruma, ganglioneuroblastoma and neuroblastoma in an additionally predominant component pheochromocytoma. They may occur sporadically or non-sporadically. Non-sporadic cases appear generally in multiple endocrine neoplasia syndromes, von Hippel Lindau and von Recklinghausen syndromes. Our case is 35-year-old male. He admitted with hypertension and secondary complaints due to hypertension and operated on clinical diagnosis as pheochrocytoma respect to clinical, laboratory and radiological results. At pathological examination classical pheochromocytoma and also ganglioneuroma areas were found and diagnosed as composite pheochromocytoma. Patient had disseminated Cafe au lait spots and cutaneus neurofibromas, one of them had been exised two years ago. As a result of these situations the case is a non-sporadically occurring (with Neurofibromatosis) composite pheochromocitoma.