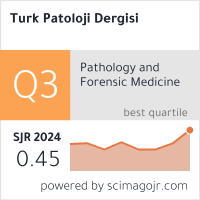 This journal is a member of, and subscribes to the principles of, the Committee on Publication Ethics (COPE)
2003, Volume 19, Number 1-2, Page(s) 007-010

THE USE OF LMW-CK AND HMW-CK FOR DIFFERENTIAL DIAGNOSIS OF IDH, AIDH AND DCIS OF THE BREAST

Süheyla E. GÜLTEKİN, A. Pınar TUZLALI, Ayşenur A. İĞDEM, Elife ŞAHAN, Seza TETİKKURT, Nusret ERDOĞAN

Lüleburgaz Devlet Hastanesi Patoloji Kliniği, Kırklareli, Taksim Eğitim ve Araştırma Hastanesi (TEAH) Patoloji Kliniği, İstanbul

We performed immunohistochemical analysis of 45 cases of intraductal hyperplasia, atypical intraductal hyperplasia and low grade ductal carcinoma in situ (DCIS) of the breast with high molecular weight cytokeratin (HMW-CK) and low molecular weight cytokeratin (LMW-CK) and immunohistochemical features of these three groups of intraductal proliferation were compared. Very similar immunohistochemical staining for LMW-CK was determined for all three groups. All cases of DCIS revealed no staining for HMW-CK. We concluded that absence of HMW-CK immunoreactivity was spesific but not sensitive for DCIS. Results of our study did not contribute to the problem of differential diagnosis of AIDH and DCIS. We believe that the diagnosis of these lesions should primarily be based on histomorphology and HMW-CK can be used as supplementary. We also believe that in the future with the use of DIN terminology, the difficulties in differentiating AIDH from DCIS can be overcome.