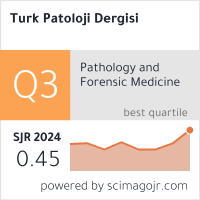 This journal is a member of, and subscribes to the principles of, the Committee on Publication Ethics (COPE)
2002, Volume 18, Number 1-2, Page(s) 015-019

THE VALUE OF IMMUNOHISTOCHEMISTRY IN THE DIFFERENTIAL DIAGNOSIS OF PRIMARY AND METASTATIC OVARIAN CARCINOMAS.

Ekrem YAVUZ, Çağlar ÇAKIR, Nimet AKBAŞ, Sıtkı TUZLALI, Faruk TAŞ, Rıdvan İLHAN, Altan İPLİKÇİ

İstanbul Üniversitesi, İstanbul Tıp Fakültesi Patoloji Anabilim Dalı, İstanbul Üniversitesi, Onkoloji Enstitüsü

The aim of this study is to investigate the value of immunohistochemical methods in the differential diagnosis of primary and metastatic ovarian carcinoma of gastrointestinal origin. Clinicopathologic features of 15 cases in the diagnosis of which we used cytokeratin 7 and 20, carcinoembryonic antigen and CA 12.5, are evaluated. In these cases light microscopic diagnosis is confirmed by the immunohistochemical method and in some, the initial diagnosis is changed. In conclusion, the use of an immunohistochemical panel of antibodies mentioned above is useful when used as a complementary method with the light microscopic features.